A Taste of Thai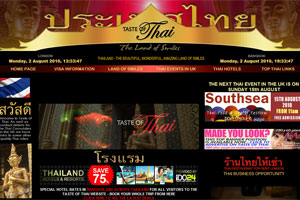 Welcome to all those wishing they were somewhere else! - Thailand is one of the most popular destinations for people in the UK and nearly everyone who has visited the land of smiles has been left with a very special connection with the Thai people and their culture. Returning from such a wonderful, amazing place can leave you feeling a little empty and disillusioned.

But there is a quick fix. With the UK Thai festival season in full swing there are lots of opportunities to experience, once again, the wonderful foods, music and cultures of Thailand. With over 30,000 Thai Nationals living in the UK it is hardly surprising that there is a healthy Thai Events calendar and their popularity is growing year on year. To experience the Thai culture in the UK you simply need to know where to go and when.

Taste of Thai is a website in the UK which has details of all of the Thai events in the UK as well as contact details for Thai consulates and some useful links to Thai resources. You can visit the site at www.tasteofthai.co.uk.


Initially set up to showcase some useful Thai resources, Taste of Thai, has over the last few years become one of the most visited UK sites for people wishing to find out about Thai festivals and events. The summer months are packed with events and what could be better than being six thousand miles from home at a Thai festival sharing a Pad Thai or a Tom Yam Kung in the summer sun in the UK? Being in Thailand - Yes we agree - being home.