Thai Drinks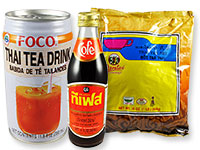 So you are familiar with typical Thai food such as noodles, green curry and rice dishes, but what about drinks? Non alcoholic
Thai drinks
within Thailand are refreshing and often sweet. The following provides some examples of what the locals typically drink throughout the day, with meals and in the evening to relax.
Iced Tea, in Thai the name is 'Cha Yen'. The tea is made with red or black tea leaves. The leaves are boiled and then the mixture is sieved, leaving the leaves behind. To balance the flavours making it more refreshing to drink, additional ingredients are added such as tamarind, orange flavoured blossom water, star anise and sugar. Some Thais also like to add a food colorant to the tea to make it yellow or red. Ice is then added and sometimes part blended in.
Lime Ice Tea. This is similar to the basic ice tea, however, fresh lime and often mint is also added.
Iced coffee can be found everywhere from local street vendors to upmarket coffee shops. The coffee is usually very strong and is mixed with cow's milk, or more typically soy milk. Again, the drink is served with lashings of ice; however, it is now becoming common for the drink to have an extra western twist such as iced cappuccino.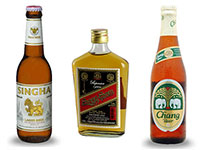 The three alcoholic drinks that are most readily available in bars throughout Thailand are the following: Sang Som is a Thai spirit which tastes like a mild whiskey. It is ruby in colour and is usually drunk with cola or lemonade. Thais however, will usually drink it with ice and no mixer.
Chang Beer can be found in literally all bars and has an alcohol content of 5%.
Singha Beer is a popular beer with an alcohol content of 6% and is pale in colour.