Sam Fox uses Thai Food Online ingredients
Come dine with me
– Celebrity Special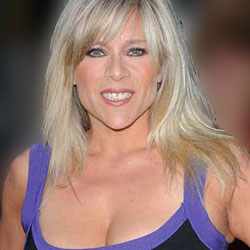 After ordering her ingredients from Thai Food Online, Sam Fox serves up a tasty meal and proves that she is more than a pair of crackers!
"I did change the face of page three and show that we have brains and personalities and we can do other stuff," says the glamorous glamour model, whose vocal talents have racked up 30 million albums worldwide.
After a volatile week Sam is on a mission to unite the group, but it won't be easy with cougar Janice on the prowl.
"Janice was really, really rude," says Jeff.
"I wasn't," complains Janice, "I was being social."
After decades in the biz, Sam knows no celebrity party is complete without… ping pong.
"The table tennis was clearly what we lacked this week, it was like we were one big happy family," grins a happy Jeff.
The loving vibe continues over dinner and Sam seems to have nailed the evening from her complimentary name tags (Foxy Sam, Calum the Best) to her awesome food.
"I'm having an orgasm!" sighs Janice, chowing on Sam's curry.
Sam Fox's menu:
Chicken Satay
Thai Beef Massaman Curry
Vietnamese Fruit Salad